Have you tried to Overcome Stress & Anxiety

    but Nothing has Worked…?
If so, you are like 99% of our clients – we have the answer…

for only $150!
Stress and anxiety are major problems in today's society with so many of us leading hectic lifestyles trying to juggle everything. Many visits to the doctor are due to stress related illnesses.
If we can learn techniques to calm the mind and feel more in control of our lives this has got to be beneficial.
The stress response, also known as the fight or flight response, is a vital part of our make up. It protects us by running from danger or staying to deal with the perceived threat. When we become stressed our heart rate increases, we can become anxious or even have a panic attack.
Other situations that can induce stress these days include divorce, bereavement, job loss, bullying, illness and financial difficulties to name but a few.
If the stress becomes unmanageable it can lead to panic attacks, anxiety or even depression. During hypnosis I use relaxation techniques to help you mange the symptoms of stress and give you the feeling of being in control and remaining calm.
Sit back and enjoy the wonderful, relaxing and enjoyable hypnosis session that will help you feel more in control of your life.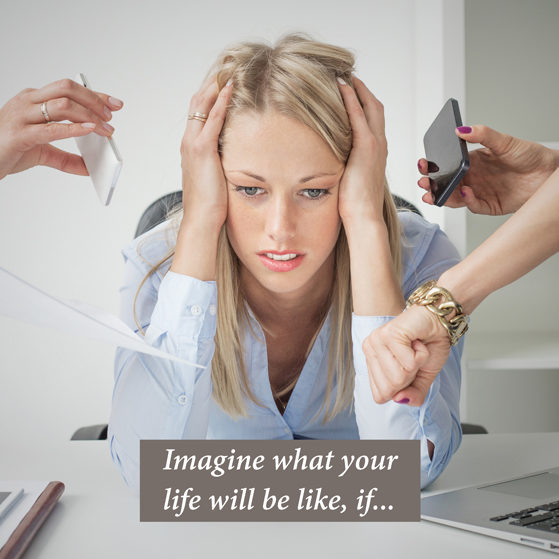 Wow!! What an amazing experience. I grew up in a family that wasn't keen on hypnosis. I figured it could be good for some people, but never thought it was for me. A few years ago I dealt with a series of traumatic events lasting nearly 7 years. As a result, I felt like I was always waiting to get bad news... always a bit on the edge of my chair (internally). After seeing all of the reviews, I thought, what could it hurt? I went to see Helen to deal with Stress. What I didn't realize is how stress was impacting me. Here's why I say that... After my session, I must have talked to 4 or 5 strangers (which I never do). It was as if all of a sudden I wasn't afraid anymore. Time felt like it slowed to an easier pace. I didn't feel so rushed and in survival mode. Since then I still find myself engaging with people I don't know with ease all of the time. I didn't realize that I had become a bit socially anxious. It makes sense now looking back. I noticed that I didn't like crowds and avoided certain situations. When it comes to Hypnosis in Orlando, I highly recommend Helen Marie Hypnotherapy to anyone who (like me) has "had it" with the stuff that is bringing them down or holding them back. Andrew was really helpful in making the whole process of setting up the hypnosis appointment easy and painless. I felt comfortable the whole time. Their Orlando location wasn't a far drive for me from Saint Cloud, FL. So, it was convenient as well. Helen is simply delightful and such a positive caring person.*
Here is What You Need to Do Next

If you are still skeptical, search for us online and read the reviews
Fill out the form with your contact information
List some good times to schedule a session
Call or text us to make sure we got your request
Look forward to enjoying the rest of your life stress free!
Contact us NOW – Change your Life FOREVER!!