Have you tried to Overcome Stress

    but Nothing has Worked…?
If so, you are like 99% of our clients – and we have the answer!
for only $180!
Nearly All of Us are Suffering from Stress…! (1)
77% of people in the US regularly experience physical symptoms caused by stress
"Absolutely ridiculously amazing, I have insane stress and anxiety and after one session feel like I just took a 7 day vacation, it was so so helpful and I can't wait for another session. If you are on the fence or thinking about doing this just do it and use Helen. It's an incredible experience."
Stress can Kill (2)
Stress is linked to the six leading causes of death: heart disease, cancer, lung ailments, accidents, liver cirrhosis, and suicide.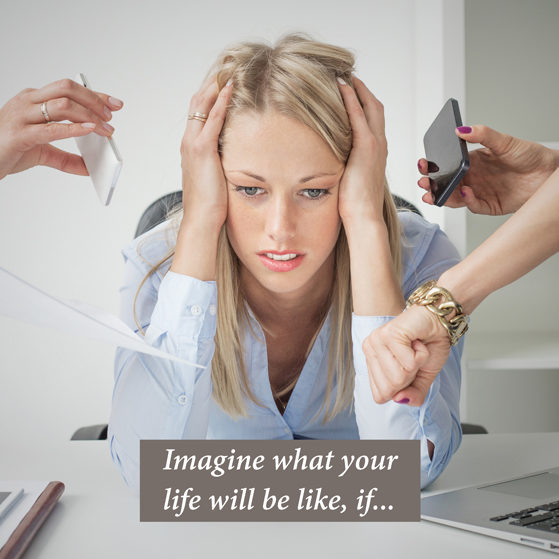 Why Hypnosis?
Hypnosis is the BEST Way to Overcome Stress
Liliana S: "Helen is an amazing healthcare professional who has been a true blessing for my family and I. When I met with Helen for the first time, I was under immense stress and pressure from work and I was having trouble with presentations and even focusing on tasks. During the session, Helen really helped me feel relaxed and showed me techniques that I can use at work to feel confident and focused. The therapy changed me completely and I feel more in control. I have had follow up sessions with Helen because I feel that they are like a Spa for the Mind. Helen also treats children and I brought my 8 year old daughter who has ADHD and was preparing to take the 3rd grade FSA. At school the teachers felt my daughter would not pass the FSA due to her lack of concentration but since I saw how much the therapy help me, I was eager to see how a session would help my daughter. I'm super ecstatic to say that my daughter passed the FSA with a 3 and was promoted to 4th grade. I wholeheartedly feel that this would not have been possible without Helen's support. For this, I am eternally grateful. Thanks so much Helen!!!"
Master your Thoughts
Our personal thoughts can do so much damage. When we spend inordinate amounts of time fearing some thing or event in the future, many times that which we fear comes upon us. When it does, we wring our hands in despair and wonder why it had to happen to us, when, in reality, we are responsible for our troubles. Bob Proctor says that the process begins first with a thought of doubt, which causes an emotion of fear, which manifests itself physically as anxiety. Anxiety robs us of our power, our energy and our purpose. Severe anxiety can even undermine our health. And it's all brought on by a thought of doubt.
You will NEVER achieve sustainable success that exceeds the image you have of yourself. Until you "see" yourself as a happy, confident person you've got as much as chance of overcoming stress as you do of making it through the month without receiving any spam!
Worry is a habit, that little voice inside your head needs to change its words! If most of our habits are learned along the way, then we can "unlearn" them too, by becoming Masters of our Thoughts. The people who live the life of their dreams have just as many stresses and worries to overcome as those who live miserable, unfulfilled lives – they have just learned to master their thoughts instead of allowing their thoughts to master them.
Hypnosis Changes the Way you THINK – without you Thinking About It!
It's important to understand why you continue to worry when you know it is doing you no good! In order to do this, Helen will help you to change your beliefs (how you think) and your emotions (how you feel) towards yourself. She can do this though hypnosis by conditioning your mind so that you can start to look forward and enjoy your life!
Overcoming stress is more about educating your mind, brain and body to become conditioned to a new way of thinking and feeling. Hypnosis can help you to do this by changing the way you think – without you thinking about it!
So Why Now and Why Us?
If you have tried most conventional methods out there, chances are, you might have come up short on success
While those other methods can be good, the hook might be set a bit deeper for you. You may just require a little more. Maybe you just haven't tapped into the subconscious mind where this irrational desire to think negatively originates from. Helen has had great success working with people to accomplish all of this and more.
Imagine how good you will feel when you are free from the burden of stress, when you can sleep through the night…!
What does a Hypnosis session involve?
The initial session is where Helen gets to know you, to find out what it is that you need help with. You will be able to talk about why you first started to suffer from stress, what impact it has had on your life and what it would mean to be know how to relax and be happy…!
She will teach you relaxation techniques and, once you are in a calm and relaxed state of mind, the hypnosis session can begin.
Every person is different, and every session is different; Helen will tailor the session specifically to what you need help with right now! It is completely safe, and most people have a wonderful, relaxing experience.
In order to help you to fully overcome your stress most clients will require three to four sessions.
The initial session usually lasts between 60 to 75 minutes; subsequent sessions are normally a little shorter.
Face-to-face sessions take place in Helen's home office in Lake Nona, Orlando, Florida.
For clients who live out of state, in another country, or who feel more relaxed in the comfort of their own home, she can help clients with online remote sessions.
Why Trust Helen?
Remarkable Credibility
Don't take our word for it. Documentation beats conversation. Do a Google search and look her up – check out her reviews – or browse through Bark, where she has helped over 470 clients.
280+ Reviews ~ 98% 5 Star
Pricing
First Session:  $180
In order to help you to fully overcome stress most clients will require three to four sessions.
Here is What You Need to Do Next

If you are still skeptical, search for us online and read the reviews
Fill out the form with your contact information
List some good times to schedule a session
Call or text us to make sure we got your request
Look forward to enjoying the rest of your life stress free!
Contact us NOW – Change your Life FOREVER!!
Wow!! What an amazing experience. I grew up in a family that wasn't keen on hypnosis. I figured it could be good for some people, but never thought it was for me. A few years ago I dealt with a series of traumatic events lasting nearly 7 years. As a result, I felt like I was always waiting to get bad news... always a bit on the edge of my chair (internally). After seeing all of the reviews, I thought, what could it hurt? I went to see Helen to deal with Stress. What I didn't realize is how stress was impacting me. Here's why I say that... After my session, I must have talked to 4 or 5 strangers (which I never do). It was as if all of a sudden I wasn't afraid anymore. Time felt like it slowed to an easier pace. I didn't feel so rushed and in survival mode. Since then I still find myself engaging with people I don't know with ease all of the time. I didn't realize that I had become a bit socially anxious. It makes sense now looking back. I noticed that I didn't like crowds and avoided certain situations. When it comes to Hypnosis in Orlando, I highly recommend Helen Marie Hypnotherapy to anyone who (like me) has "had it" with the stuff that is bringing them down or holding them back. Andrew was really helpful in making the whole process of setting up the hypnosis appointment easy and painless. I felt comfortable the whole time. Their Orlando location wasn't a far drive for me from Saint Cloud, FL. So, it was convenient as well. Helen is simply delightful and such a positive caring person.*