Do Remote Online Sessions Really Work?
Absolutely – 100%
In all the years I have been offering hypnosis, remote online sessions have proved as effective, if not more so, than traditional face-to-face sessions.
I can categorically state that it makes absolutely no difference whether you are sitting next to me, or you are in a different city or even a different country.
---
The moment you close your eyes, you will experience the same high-quality hypnosis session as if we were in the same room.
---
We will share that room together, you feel safe and secure in your own home. All you need is a private space and some quiet time, free from interruptions.
You can work sessions into your personal schedule, you don't need to worry about the traffic, the weather or travelling at night.
And, most importantly, you won't feel worried about entering an unfamiliar room and sharing your deepest darkest secrets in person.
You will be able to relax more quickly with a remote session and enter a deep hypnotic state more effectively in your favorite armchair.
I had a fantastic session with Helen in these troubling times. I had a two hour session online and went through stuff relating to anxiety and in particular Covid-19. I came away feeling much more relaxed and had the best night sleep I'd had in a long time! Thank you so much! I must say that even though I am in the UK and Helen is in the US and it was done online, it was still very effective - as if Helen was in the room with me. Would definitely recommend to anyone considering hypnotherapy in these stressful times.
Helen and I have had one session so far and it was unbelievably helpful and fulfilling... She is incredibly kind and warm, understanding, and uplifting. For those who do not live near her, please know that a virtual session DOES work. In fact, I think it actually helped me be more relaxed and open during the session as I was able to do it from home... Please consider reaching out about hypnotherapy to Helen, even if you just have questions. They are SUPER kind and helpful.
Helen is wonderful and I highly recommend her. I had two online sessions with her this month, and by the second session I felt so much better about my phobia that I was actually feeling positive about it! Helen's calm, relaxing manner and warmth really comes through even via the online sessions. She made me feel at ease and has helped me enormously. I wholeheartedly recommend working with her - she's truly helped to change my life.
I got a Hypnosis session over the phone Half way across the country and it worked in the First shot! I am as Skeptical as they come, but tried everything else and It All Failed. I Tried using my Computer but had a sound issue on my end and asked to use the phone seeing as my eyes would be closed for most of it anyway. I couldn't believe it worked in the first session but the Follow up session Really drove it home. I Smoked Marlboros for 30 years and dropped them instantly after an hour and twenty minutes on the phone with Helen. I Lost count of all the people I have told about her. 5 stars to anyone who can do that! You've Got Nothing to Lose but a Bad Habit! Thanks Helen! Scott St. Marie - Western Mass!
Smoked cigarettes for 30 years and hated it. Hypnotherapy was the only thing left to try. Helen took the time to learn about my life, explained how it works and all in the comfort of my home. To be honest I had my reservations about this working, but it did! I haven't smoked a cigarette in 2 weeks. I'm not saying it was easy because it definitely was not. Helen showed me some exercises that would help me with the cravings and boy those first 3 days were tough. I still get the urge once in a blue moon but I just start tapping the spots she showed me and they are gone. If you really want to quit with Helen it's possible. Thank you so much from myself and my family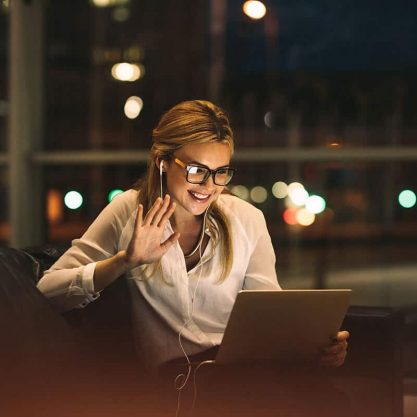 How It Works
The process is simple. All you need is a laptop, tablet or smart phone. We will send you all of the details, including the link to the video conference call, once you schedule your appointment.
Not great with technology?
No problem – take a look at Scott's review – we can even do it on the phone!
I had a wonderful experience, especially since this was my first time ever to try Hypnotherapy. To be honest I was a little skeptical and thought I could not be hypnotized as my only exposure to it was from some entertainment shows and my session was nothing like that. I must confess it was not at all what I had imagined and I received immediate benefits! Helen gave me some valuable tools I continue to use everyday! I highly recommend Helen she is a true professional.*
Contact us NOW – Change your Life FOREVER!!