Have you tried Various Methods to Stop Smoking and None have Worked?
Are you Determined to Kick the Habit?
68% of Smokers Want to Quit(1)
Nearly 7 in 10 smokers want to quit and more than 55% try to quit, but most fail – you are not alone!
Smokers Die 10 Years Earlier than Non-Smokers(2)
Why do you continue to smoke when you know you are risking your health and reducing your life expectancy?
Smokers Spend over $123,000 in their Lifetime on Cigarettes(3)
Do you know how much smoking is costing you? The actual cost, including health care costs, loss of income and the financial opportunity cost is estimated to be a staggering $1.9 million per smoker!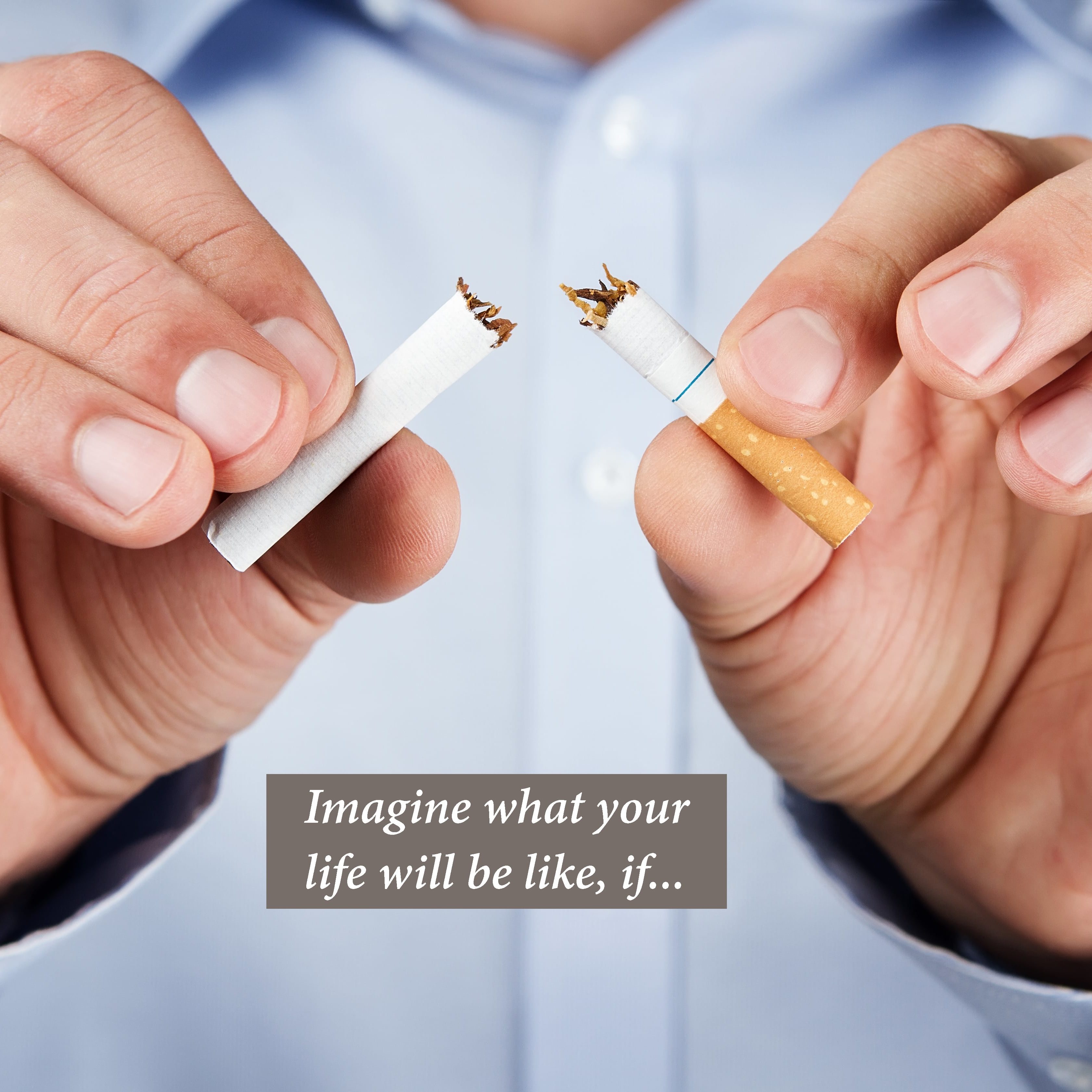 Smoking Helps me to Relax
Some smokers would say that it helps them to relax but in fact as soon as the nicotine enters the bloodstream your heart rate increases giving you the opposite effect.
Smoking is Cool
Many people began to smoke when they were younger to make themselves appear older or to fit in with their peer group; does this idea really hold true today?
I don't want to Gain Weight
If you are worried that you may gain weight if you give up smoking, then don't let that be a concern; I will give you useful suggestions and techniques during hypnosis that will prevent that from happening.
NOW is the Time!
There are fewer and fewer places for smokers to smoke and it is becoming more and more socially unacceptable. Now is the right time to quit. You owe it to yourself for your own health and everyone around you. By investing in yourself now you can break the habit and have better health, more money, smell fresh and be free from the constant craving.
Hypnosis is the Most Effective Way to Quit Smoking(4)
The largest study ever, combining the results of 72,000 people, showed that hypnosis is 3 times as effective as a patch and 15 times as effective as using your willpower.
87% Quit Smoking using Hypnosis(5)
If you are trying to give up smoking, the more you think about not having a cigarette the more you want one. This is because whenever you have conscious willpower versus subconscious imagination, your imagination will always win. Hypnosis changes the way you think, subconsciously.
One Session – 12 Months Support
I use a technique that is very effective; it should require just one session. However, the price includes 12 months backup and support, so, should you relapse and start smoking again any time during that period, you can come back for as many sessions as you need, free of charge.
1. Centers for Disease Control and Prevention Current Cigarette Smoking Among Adults—United States, 2005–2016. Morbidity and Mortality Weekly Report 2018;67(2):53-9
2. Jha P, Ramasundarahettige C, Landsman V, et al. 21st Century Hazards of Smoking and Benefits of Cessation in the United States. New England Journal of Medicine 2013;368:341–50
3. https://wallethub.com/edu/the-financial-cost-of-smoking-by-state/9520/
4. Hypnosis is the most effective way of giving up smoking, according to the largest ever scientific comparison of ways of breaking the habit. A meta-analysis, statistically combining results of more than 600 studies of 72,000 people from America and Europe to compare various methods of quitting. On average, hypnosis was over three times as effective as nicotine replacement methods and 15 times as effective as trying to quit alone. University of Iowa, Journal of Applied Psychology, How One in Five Give Up Smoking. October 1992. (Also New Scientist, October 10, 1992.)
5. A study of 93 male and 93 female CMHC outpatients examined the facilitation of smoking cessation by using hypnosis. At 3-month follow-up, 86% of the men and 87% of the women reported continued abstinence from the use of tobacco using hypnosis. Performance by gender in a stop-smoking program combining hypnosis and aversion. Johnson DL, Karkut RT. Adkar Associates, Inc., Bloomington, Indiana. Psychol Rep. 1994 Oct;75(2):851-7.
I went to Helen to help me quit smoking after 30 years of this habit. She spent so much time learning about me personally, my motivations and what I ultimately wanted to accomplish before we started the session. It was her caring and professionalism that really made this a successful experience. I have been smoke free since my session in early 2017 and I don't miss it. I feel like I have my life back! Thank you Helen!*