Imagine what your
life will be like, if…
Hello and Welcome
Hypnosis Orlando & Online

My name is Helen Marie Slade and I am a Certified Hypnotist
and a Licensed NLP Practitioner
My practice is based in Lake Nona Medical City, Orlando, Florida, home to some of the nation's top hospitals and medical care facilities
Local and Online Sessions Available
Altamonte Springs
Apopka
Celebration
Cocoa
Dr. Phillips
Kissimmee
Lake Hart
Longwood
Melbourne
Narcoossee
Orlando
Saint Cloud
UCF
Windermere
Winter Garden
Winter Park
Orlando Hypnosis
Helen is one of the most highly rated hypnotherapists in Orlando, Florida.


She is ranked in the top 4% of all professionals, according to Thumbtack.


She operates from the privacy of her clinic in Lake Nona, Orlando, where she has her office, but she is also able to help out of state clients from all over the country using remote online sessions.


Check out her reviews to see why over 98% of clients visiting her Orlando hypnosis center have a positive experience and give her 5-star reviews!


Helen takes time to understand her client's needs, the issues that impact on their personal lives and the changes and physical demands that affect people working long hours.


She understands the healing process, how therapy, and how we think, can help to improve one's health.


She is there to support patients on their own particular journey and truly cares about the people she is helping.


She is committed to ongoing training, she strives to achieve professional excellence in all that she does, and she loves to read, study and continue to learn new techniques in order to help her clients live better lives.


Her services include weight loss, anxiety and stress management (where she has had amazing results, helping many people to do great things with their newfound confidence).


She helps patients improve their mental well-being, to focus on their health and get a good night's sleep.


She is also able deal with pain and anger management and help people to overcome all sorts of fears and phobias (fear of public speaking, fear of flying, heights, spiders etc.).


She has had great success helping countless people to quit smoking, where she is thought by many to be one of the best hypnotherapists not only in Orlando, but also in the country, helping people to stop smoking with just one session.


Phone today for your free consultation to find out how hypnosis works and how you can change the way you live your life forever!


Helen is widely regarded as a top hypnotherapist, one of the best in the country - she is waiting for your call!
All rights reserved
Copyright Helen Marie Hypnotherapy, lake nona, orlando, fl.
Why are you visiting this website?
The chances are that you want to achieve something in your life that you are currently finding difficulty with. You may have tried to overcome this particular obstacle before…maybe more than once, and you just need a little helping hand to make it happen.
If that is the case, you are in the right place. My aim is to help people just like you tap into the power of your mind to give you the help that you need wherever you are in your life's journey.
Contact Us NOW!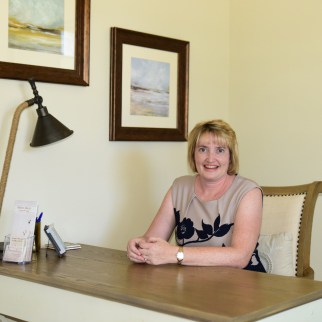 Helen Marie Slade, Certified Hypnotist,
in her Orlando office
I can't wait to help you!
Hypnosis Reviews
Our Orlando Hypnotherapy Service Testimonials & Reviews
I enjoyed my first session with Helen immensely and felt peaceful and happy afterwards. I decided to repeat my experience, and over three more sessions with Helen's wonderful direction, I learned how to quiet my mind and work through several life events that have caused me much stress over the years. I did not know it could be this easy and pleasant. I feel I have experienced great results and will continue to work with her. Catherine Zelner, M.D.*
Contact us NOW – Change your Life FOREVER!!
Q & A – Answers to Commonly Asked Questions from Our Hypnotherapy Expert in Orlando, FL
How does Hypnosis work?
Hypnosis is a state of focused consciousness. It is a very powerful and relaxing tool used to access your subconscious mind. Your subconscious mind is who you are. It is the sum of your life experiences; it controls your habits and beliefs. The hypnotist helps the client to go into a state of deep relaxation in which the client becomes receptive to the therapist's suggestions.
For example, if you want to stop biting your nails, even though you know that it a bad habit and sensibly, logically there is no benefit to it, your rational, conscious mind is not able to help you. During hypnosis, the positive suggestions made by the hypnotist can bypass your mental resistance and internal defense mechanisms, helping you to achieve what you thought was previously unachievable: losing weight, quitting smoking, overcoming your fear of flying, or not biting your nails!
The hypnotist's goal is to improve the client's commitment and motivation, subconsciously. Clients are often amazed at how an hour relaxing in a comfortable chair can have such a dramatic impact on their life! Interestingly, clients often don't perceive any changes consciously, rather, they simply notice new behavior patterns.
How is Hypnosis used in therapy?
Hypnosis can be used to help people suffering from many different issues such as stress and anxiety, fears and phobias, pain management, low self-esteem and confidence. It is also a powerful tool to help clients overcome addictions such as smoking, drugs, overeating and gambling. Hypnosis is not a therapy, as such, but it can be used in conjunction with therapy to help clients make positive changes in their lives.
Dr. Clifford N Lazarus, a licensed psychologist and Director of The Lazarus Institute, states that "hypnosis is a genuine psychological phenomenon that has valid uses in clinical practice … hypnosis is a state of highly focused attention or concentration, often associated with relaxation, and heightened suggestibility. While under hypnosis (i.e., in a hypnotic trance), it seems many people are much more open to helpful suggestions than they usually are."
The hypnotist can tap into the client's subconscious mind helping them to make changes and achieve goals which would not have been possible by willpower alone. Often patients report that behavioral changes seem effortless after hypnosis.
What is the effectiveness of Hypnosis?
Generally, anybody of normal intelligence who is willing to follow simple instructions can be hypnotized. Although it will work for the majority of people, the majority of the time, there are no guarantees.
It depends on a number of factors, not least of which is how open-minded the client is to receiving subconscious instruction. The aim of the hypnotist is to help put the client into a calm and relaxed state of mind which will give them the best chance of having a successful session. The more relaxed they are prior to hypnosis, the deeper they will go into hypnosis and the more effective it will be.
Hypnosis can be used to help with stress and anxiety, smoking cessation, weight loss, fears and phobias and lots more. Hypnosis can also help people suffering from chronic illness, pain, or trauma, or to help them come to terms with, and move on from, family and relationship situations, financial issues and health problems.
Hypnosis does not work on every person and a very few do not respond at all (typically a low percentage of people if they see a skilled hypnotist). However, with the genuine care and help of a good hypnotist, there is every chance of the client having a wonderful, fulfilling and enjoyable experience.
What can Hypnosis help you with?
Hypnosis Orlando
https://helenmariehypnotherapy.com/
The oldest and largest organization of hypnotists in the world is the National Guild of Hypnotists (NGH), founded in 1950, members of which are known as Certified Hypnotists. The NGH's mission statement is to "…help ordinary, everyday people, with ordinary, everyday problems…"
Hypnosis is a self-regulating profession and its practitioners are not licensed by the state. They are not medical practitioners and, therefore, they cannot provide a medical diagnosis nor recommend the discontinuance of medically prescribed treatments. Although they are not medically trained, they can, however, help clients to use the power of their minds to think positively about the issues that have been bothering them and to look forward to the future with confidence.
As Napoleon Hill states in his best-selling book, Think and Grow Rich, "Whatever the mind can conceive and believe, it can achieve".
We can help with a great number of issues:
Hypnosis for Alcoholism

Hypnosis for Drug Addiction

Hypnosis for Pain Management

and many more!